Residential Roofing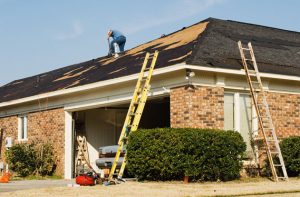 We are Midwest Roofing Experts, and our qualified professionals have the knowledge, experience, and credentials in residential roofing for your St. Louis area home's needs. Whether you need roofing repairs on an existing roof or a complete roof replacement, our team of skilled, licensed (and insured), and experienced roofing specialists can fix any roof. We provide a broad range of roofing services for any roof you may desire. We perform inspections and maintenance, as well as cleaning and insulation services. We can install any roof from metal roofs to asphalt shingles. We also perform our services on gutters, downspouts, shutters, solar panels and sky lights. Our team of experts believes in quality and safety, and we guarantee our work as well as offer competitive and affordable prices.
The Roof Repair and Replacement Experts
It's no coincidence that a sparkling, freshly repaired or a new roof is considered to be the ultimate investment in your home. No wonder when prospective homeowners are house-hunting, one of the first questions they ask is always about the state of the roof. An older roof can leave some buyers holding off and waiting for a home that has a new or newer roof. That's why we here at Midwest Roofing Experts perform our residential roofing services with the idea that your roof is most integral part of your home and besides the aesthetics or protective qualities, it will add to the resale value of your home. Our residential roofing services range from repairs of an existing roof to complete roof replacement. We can replace a roof in any style or type, from metal roofs to asphalt shingles. We also provide services from repairs, inspections, cleaning, and maintenance. We install and repair gutters, siding, chimney caps, flashing, shutters, fascia wraps, roof insulation, gutters downspouts and an array of green roof systems and solar panels and skylights. No job is too big or too small.
Free Residential Roofing Estimates – Call (314) 820-1729
For residential roofing in the St. Louis area, we at Midwest Roofing Experts want to be your roofing company for all your needs. We offer a variety of residential roofing services from repair, maintenance, and new roof replacement. Once you put us to the test, we believe you'll be happy with our professional roofers and the job they accomplish. We'd like to request that you contact us by calling us at (314) 820-1729 , and we'll give you a no-cost, no-obligation consultation to discuss our services and affordable, competitive prices as well as our industry-leading warranties. You'll be glad you did.